South Africa offers accommodation to the largest population of white rhinos in the world.
Since 2009, 8132 rhinos have been poached only in South Africa. The white rhino population in the Kruger National Park has therefore fallen by 51%.
Although the population of white rhinos is still declining, there is also good news that the population of black rhinos has risen slightly.
The first poaching figures for the year 2019 are known.
From January 2019 up to and including June 2019, 316 rhinos were poached in South Africa.
Fortunately, this is a decrease compared to the figures for the same period in the year 2018, when 386 rhinos were poached for their horns.
This decrease is only due to the enormous dedication of many people and projects that work hard every day for the rhino.
We are happy to feel that we also belong a little to this group, and with us everyone who has donated to our goal.
We would like to thank you all for everyone who has made a donation so far or who has helped us in any other way.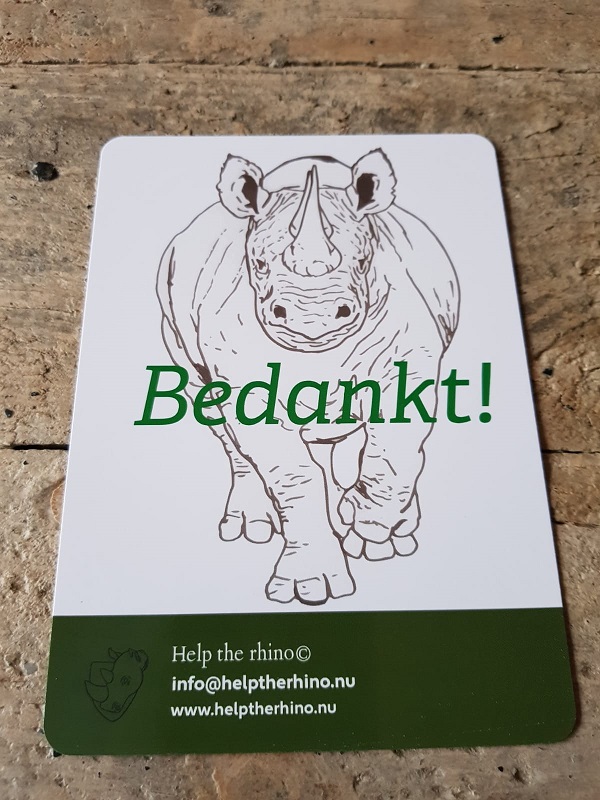 With all the donations we already have a nice amount together.
This immediately gives us the opportunity to explain what our first project will be in South Africa that we can facilitate from all donations.
As you now know we work for Project Rhino, who is committed to combating poaching from different angles.
Our saying on the website is not for nothing "Education is the most powerful weapon which you can use to change the world." Nelson Mandela.
This is the first project which we can make from all donations Through Wild Life Act we have the possibility to take 30 children to the uBhejane Kids camp in Somkhanda game reserve.

All too often, communities that live around nature reserves are banned from protected areas. If rural communities are not helped to sustain themselves, or receive adequate conservation education, we cannot expect these communities to do anything but look at protected areas as a source of income and a way to survive. To address these issues, Wildlife ACT has set up community conservation projects around four game reserves in Zululand where endangered animals need protection.
This work includes conservation lessons at school, a kids bush camp program, conservation meetings for adults, cummunity game drives and wildlife ambassador clubs, all partly focused on rhino conservation (but also focused on other endangered animals).
With the Ubhejane kids camp, we can take 30 children who will camp with us for four days. These children have often never seen wildlife, while they live close to the nature parks. The uBhejane kids camp focuses on hands-on child-oriented discovery activities to teach students conservation concepts. The greatest goal is to teach young people a passion for nature conservation.
The children receive tracking lessons, go on a game drive to see wild animals for the first time in their lives, they receive lessons about conservation & animals, and learn about poaching. Children are also inspired by the rangers who provide the lessons to become a ranger themselves.
These educational and social projects cost a lot of money but are of great value for the preservation of the rhino. Although rhino's anti-poaching and rescue operations are now crucial given the seriousness of the poaching, the rhino war will ultimately be won through education. When communities adjacent to nature reserves understand why rhinos need to be protected and how they can benefit from rhino conservation, a powerful buffer zone will be created around every rhino population. This will make poaching less and less likely.
To offer lessons to 30 children for four days, shelter, food & drink costs 30,000 rand, which amounts to 1755 euros.
Through our give action we are currently at 715 euros, so we still have a way to go and hope for your help!
Any donation, no matter how small or large is therefore welcome.
We thank you for donations, help and reading this blog.

Uthando/regards Mark en Marloes.